As an avid traveler you have probably seen a lot all around the world. Most likely you slept at many several hotel rooms, such as pretty ones, dirty ones, expensive ones or ugly ones… But I'm pretty sure you haven't slept at one of the rooms in the absolute weirdest hotels in Amsterdam (and surroundings). So don't leave the blog before you have seen all of these extraordinary sleeps… Also…! Make sure to read the last mentioned hotel, because it truly is Amsterdams weirdest hotel! For those who can't wait, and just want to see the weirdest hotel… You can skip to it, by clicking the link here.
Hotel Not Hotel Amsterdam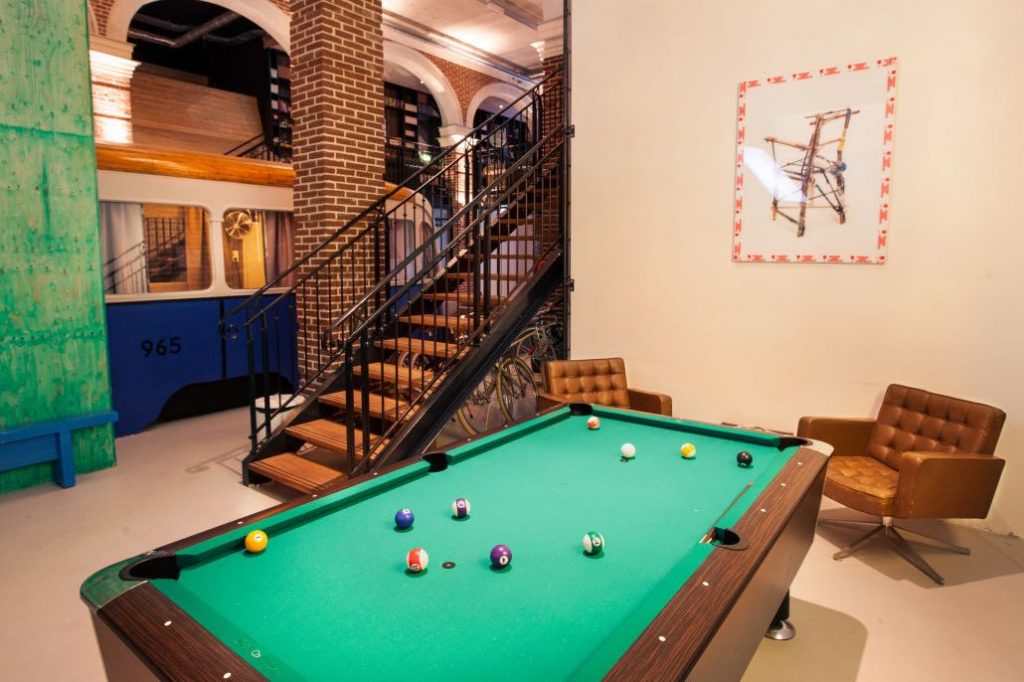 Located in the West of the city center, you can find Hotel Not Hotel. Here each rooms is a experience on its own. All rooms are have their own themes, such as: hidden rooms, a Spanish villa. But the absolute weirdest of all is the room with the typical old Amsterdam tram. This is one of the first trams that was used in Amsterdam, around the early 1900's. Don't worry this tram, Cart 965, is completely restored, transformed, and better looking than ever.
Don't expect too much luxury since it is located in a common area of the hotel, but it has a unique atmosphere. Inside the tram cart there is a king-size bed, wooden floor, and the old school light bulbs. The bathroom is shared and can be found closeby.
Address : Piri Reisplein 34 (1057 KH, AMSTERDAM)
Website : http://www.hotelnothotel.com/
Photo and video gallery Hotel not Hotel Amsterdam
SWEETS Hotel Amsterdam
For 100 years the bridges were manned by bridge guards, who were responsible for opening the bridges. Especially in Amsterdam, where there are so many canals and ditches, this was an important appeal for the functioning of the city. But as everything is now being replaced by technology and artificial intelligence, this profession has also been dropped. As a result, the bridge keeper houses have become redundant and have remained unused for years. Until 2012 a few smart hotel entrepreneurs with a good vision changed this. Their vision: "to introduce travelers to new neighborhoods and unexpected experiences in the city". And that's how the suites of the Sweets Hotel came into being …
As a guest you stay in a cozy hotel suite, equipped with all sanitary facilities and a room with a small seat and a bed for two persons. The suites come with great comfort, great views and a one-of-a-kind experience! In short, SWEETS hotel offers a unique experience in one of the craziest hotels in Amsterdam.
Address : Rietlandpark 193 (1019 DV, AMSTERDAM)
Website : https://sweetshotel.amsterdam/
Photo and video gallery SWEETS hotel Amsterdam
Reijgershof Amsterdam
Planning to visit Amsterdam? And do you think that you can only find beautiful, cheap, cozy or expensive hotels at noisy locations in the city center…? Then think again!
Reijgershof is a small estate on the outskirts of Amsterdam, equipped with unconventional accommodations. Here you can spend the night in a yurt and that is quite unique for the urban environment of Amsterdam. A yurt is a big traditional tent, that originally was used by nomads living in the steppe areas in Central Asia.
At Reijgershof they have tried to create an oasis of tranquility. You will find a large pond, a vegetable garden and free running animals. This all is surrounded by greenery, so you can relax after a busy day in the center of Amsterdam. All of this on the outskirts of Amsterdam, which is easily accessible by public transport.
Address : Provicialeweg 30 (1108 AB, AMSTERDAM)
Website : http://www.reijgershof.nl/
Photo and video gallery Reijgershof Amsterdam
Prinsenboot Hotel Amsterdam
Amsterdam is also known by some as the Venice of the North. This is because the center was built around the four main canals: Singel, Herengracht, Keizersgracht and Prinsengracht. Besides these, the city has a total of 165 canals spread over the city. Completing with a total of 1281 bridges crossing this huge amount of canals. And on one of these 165 canals you can find this weird hotel, called: the Prinsenboot.
The Prinsenboot is a inland vessel that is converted into a small hotel, and situated on the relatively quiet Prinsengracht. A strange place for a hotel, since most hotels are located on the quay. And this is exactly why the Prinsenboot is on this list of the weirdest hotels in Amsterdam. Where else will you wake up with a canal cruise or pedal boat passing the bedroom window…?
Getting a bit curious if one of three suites on the Prinsenboot, will be something for you? The boat is well located at a very strategic location in the city center. On top of this, the suites are fully equipped with all your basic needs.
Address : Prinsengracht 967 (1017 KL, AMSTERDAM)
Website : –
Photo and video gallery Prinsenboot hotel Amsterdam
Mandelahuisje / The Little Mandela House Amsterdam
You probably already have a clear picture of Amsterdam. This picture probably has an urban character, with an old city center. Whit this picture in mind, you probably find it very unlikely that the city houses a very special (romantic) place just at the opposite of the center. Not only the location itself is unique in Amsterdam, but also the design and use of materials is special. The Mandelahuisje – as they named this sleeping place – consists of glass facades. This feature provides an unique experience. You should image the priceless views!
The Mandelahuisje – which translates to the Little Mandela House – is almost in the heart of Amsterdam, directly across the IJ-water from Amsterdam Central Station. Despite the millions of travelers commuting ont the other side of the IJ-water, this place is an oasis of calmness. Here you sure can celebrate love to the max! And you shall definitely experience romance at its best… 😉
This weird uncommon sleeping place is seemingly romantic glass house. Or even better, this is a true 'Panoramic Suite'. The Little Mandela House is 50 square meters in size, and is from top to bottom surrounded by glass…, glass…, and even more glass! This not only gives a great view over the IJ-water, but you will sit in the front row for a first class show of the universe above…
Address : Sixhavenweg 27 (1021 HG, AMSTERDAM)
Website : http://mandelahuisje.nl
Photo and video gallery Mandelahuisje Amsterdam
Train Lodge Amsterdam
Train Lodge is truly one of the weirdest ho(s)tels of Amsterdam. This because it is located in night trains at the city's outskirts. The peculiarity of these night trains is that they were used as a sleeping units of these night train, just a few years ago. At that time they connected Zurich in Switzerland with Rome in Italy. The initiators have paid attention to authenticity of this project. The trains have been restored, while preserving the original decor and look and feel.
Ok… Ok…, for the attentive readers among you guys… You have discovered us! :p By including the Train Lodge to this list of weirdest hotels in Amsterdam, we actually cheat a bit. This strange hotel is actually not a hotel, but a hostel (with the 'S' of social in between). This means that there are no rooms available, but inexpensive beds in rooms to sleep at. These rooms have to be shared with other travelers, which mostly creates a nice and social atmosphere. Just exactly like a couple of years a go, when the trains still served as a night trains between Zurich and Rome.
Like the property's name is mentioning, the location of the hostel could only be found near a train station! 🙂 The Train Lodge can be found right next to the Amsterdam Sloterdijk Railway Station, on the outskirts of Amsterdam. This seems far away, but it is very close to the station, which has an excellent connection to the rest of the city and surrounding hotspots. At the station you can find any kind of transportation, such as: train, tram, (night) bus and metro.
Address : Changiweg 121 (1043 DZ, AMSTERDAM)
Website : https://trainlodge.com
Photo and video gallery Train Lodge Amsterdam
Windketel Amsterdam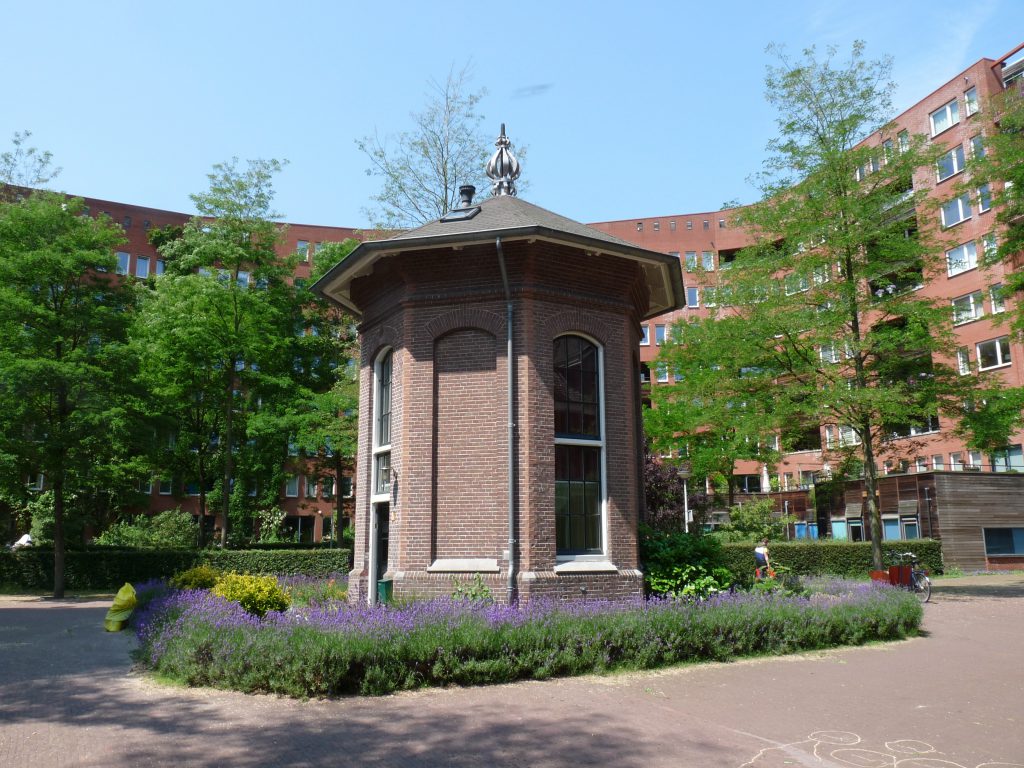 Hotel Windketel is not really an impressive building, but it sure is very special. This small three-story building was built in 1897, and was then used as an air chamber unit. This basically is an airtight building which pumped water through in a steady flow. This building was part of the 20th century Amsterdam water producing system, and received a monumental status because of its history. As a result the building has not been lost, but has been completely renovated and converted into a residential function with contemporary standards. And as per 2004 the Windketel is available for rent, as a hotel room with three floors. A transformation that made it one of Amsterdams weirdest hotels.
The three levels of the hotel suite are planned as:
On the ground floor you'll find a kitchen which is equipped with all the modern desirable appliances. Adjacent to the kitchen is the toilet, and you have access to a small private terrace facing the sunny south! 🙂
On the first floor you'll find the living room, which features large windows on all sides of the room. These provide a lot of daylight during the day.
The second, and upper floor of the Windketel, houses the bedroom. A truly special room, which displays the beams of the original roof. The bedroom  further has of course a comfortable double bed, but also a second toilet, a sink and a bathtub.
Address : Watertorenplein 8c (1051 PA, AMSTERDAM)
Website : http://www.windketel.nl
Photo and video gallery Windketel Amsterdam
Gallery of the Weirdest Hotels in Amsterdam
Now you have read our list of the Weirdest Hotels in Amsterdam, time has come to see the visual evidence… 😉 So please enjoy yourself with the photos of these weirdest hotels and let us know what you think of them in the comment section below!
Gallery HotelnotHotel Amsterdam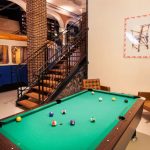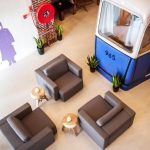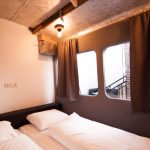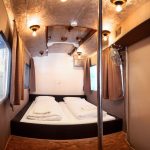 Gallery SWEETS Hotel Amsterdam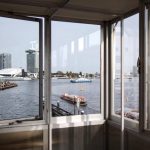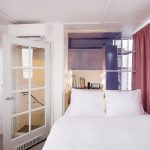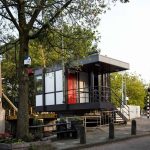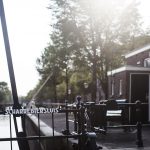 Gallery Reijgershof Amsterdam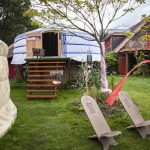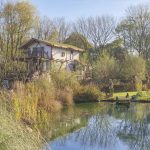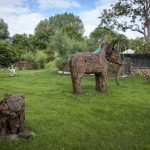 Gallery Prinsenboot Hotel Amsterdam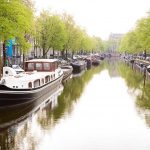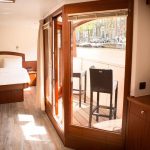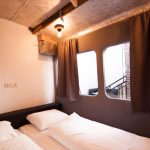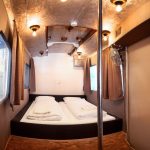 Gallery Mandelahuisje Amsterdam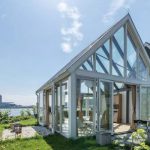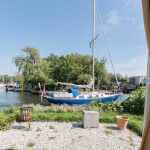 Gallery Mandelahuisje Amsterdam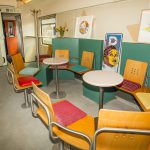 Gallery Windketel Amsterdam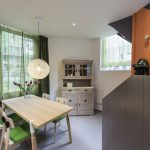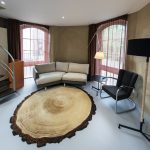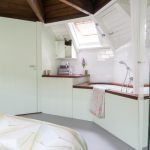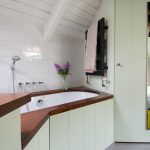 Preview the other weird hotels that will be listed. Such as:
– Botel: https://www.iamsterdam.com/nl/op-bezoek/overnachten-in-amsterdam/locaties/hotels/amstel-botel
– Faralda NDSM Crane Hotel: https://www.iamsterdam.com/nl/op-bezoek/overnachten-in-amsterdam/locaties/hotels/crane-hotel-faralda-amsterdam = https://booki.ng/2EHrsuM
Surroundings
– Indoor camping at Alkmaar: https://origineelovernachten.nl/bijzonder-kamperen-op-een-indoor-camping/?row=54&item=1
– Aquabin in Aalsmeer: https://origineelovernachten.nl/slapen-op-water-aquacabin/?row=55&item=3
– Fortress in the Beemster: https://origineelovernachten.nl/luxueus-overnachten-een-fort/?row=101&item=1
– Retro camper at Bloemendaal aan Zee: https://origineelovernachten.nl/slapen-retro-trailer-bloemendaal-zee/?row=34&item=4
– Tree house in Flevoland: https://boomhutovernachtingen.nl/boomhut-suite/
– Peer at Scheveningen: https://origineelovernachten.nl/bijzonder-overnachten-op-pier-scheveningen/?row=28&item=4
– Hobbit house in Castricum: https://origineelovernachten.nl/sprookjesachtig-slapen-in-een-hobbitwoning/?row=95&item=1
– Castle Heemskerk: https://origineelovernachten.nl/bijzonder-overnachten-een-kasteel/?row=12&item=1
– Bridge guard post at IJmuiden: https://origineelovernachten.nl/overnachten-in-de-seinpoststelling-van-ijmuiden/?row=35&item=4
– Yard cellar in Utrecht: https://origineelovernachten.nl/bijzonder-overnachten-werfkelder-utrecht/?row=50&item=1
– Zaanse Houses in Zaandam: https://origineelovernachten.nl/overnachten-in-een-stapel-zaanse-huisjes/?row=73&item=1
– BDSM in The Hague: https://origineelovernachten.nl/bijzonder-overnachten-kinky-bed-and-breakfast/?row=68&item=1