As an avid traveler you have probably seen a lot all around the world. Most likely you slept at many several hotel rooms, such as pretty ones, dirty ones, expensive ones or ugly ones… But I'm pretty sure you haven't slept at one of the rooms in the absolute weirdest hotels in Amsterdam (and surroundings). So don't leave the blog before you have seen all of these extraordinary sleeps…
Hotel Not Hotel Amsterdam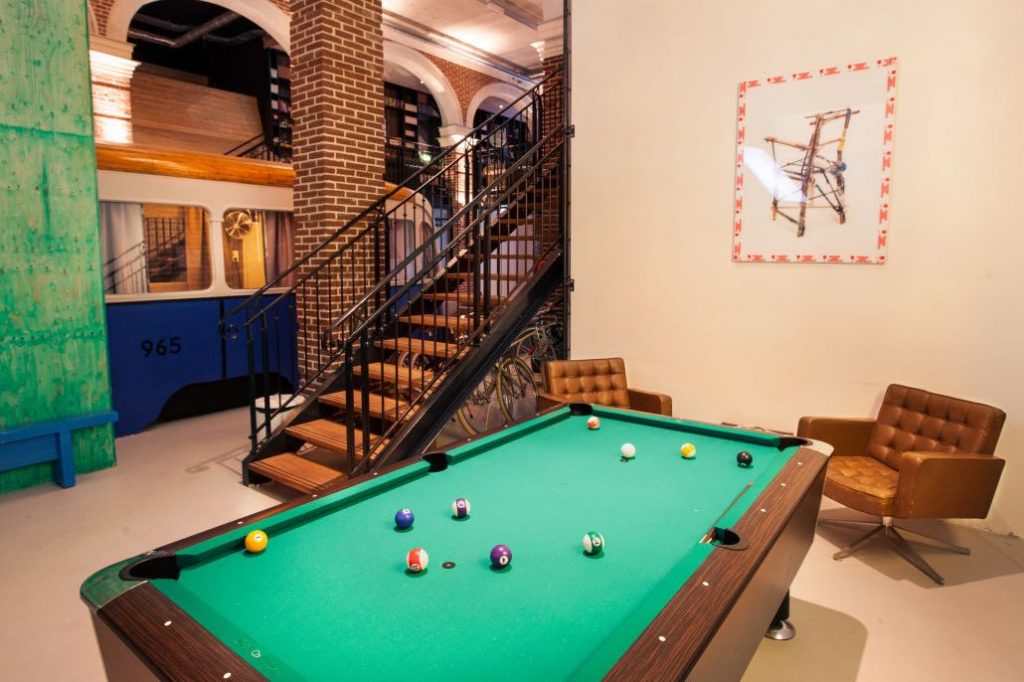 Located in the West of the city center, you can find Hotel Not Hotel. Here each rooms is a experience on its own. All rooms are have their own themes, such as: hidden rooms, a Spanish villa. But the absolute weirdest of all is the room with the typical old Amsterdam tram. This is one of the first trams that was used in Amsterdam, around the early 1900's. Don't worry this tram, Cart 965, is completely restored, transformed, and better looking than ever.
Don't expect too much luxury since it is located in a common area of the hotel, but it has a unique atmosphere. Inside the tram cart there is a king-size bed, wooden floor, and the old school light bulbs. The bathroom is shared and can be found closeby.
Address : Piri Reisplein 34 (1057 KH, AMSTERDAM)
Website : http://www.hotelnothotel.com/
Photo and video gallery Hotel not Hotel Amsterdam
SWEETS Hotel Amsterdam
For 100 years the bridges were manned by bridge guards, who were responsible for opening the bridges. Especially in Amsterdam, where there are so many canals and ditches, this was an important appeal for the functioning of the city. But as everything is now being replaced by technology and artificial intelligence, this profession has also been dropped. As a result, the bridge keeper houses have become redundant and have remained unused for years. Until 2012 a few smart hotel entrepreneurs with a good vision changed this. Their vision: "to introduce travelers to new neighborhoods and unexpected experiences in the city". And that's how the suites of the Sweets Hotel came into being …
As a guest you stay in a cozy hotel suite, equipped with all sanitary facilities and a room with a small seat and a bed for two persons. The suites come with great comfort, great views and a one-of-a-kind experience! In short, SWEETS hotel offers a unique experience in one of the craziest hotels in Amsterdam.
Address : Rietlandpark 193 (1019 DV, AMSTERDAM)
Website : https://sweetshotel.amsterdam/
Photo and video gallery SWEETS hotel Amsterdam
Reijgershof Amsterdam
Planning to visit Amsterdam? And do you think that you can only find beautiful, cheap, cozy or expensive hotels at noisy locations in the city center…? Then think again!
Reijgershof is a small estate on the outskirts of Amsterdam, equipped with unconventional accommodations. Here you can spend the night in a yurt and that is quite unique for the urban environment of Amsterdam. A yurt is a big traditional tent, that originally was used by nomads living in the steppe areas in Central Asia.
At Reijgershof they have tried to create an oasis of tranquility. You will find a large pond, a vegetable garden and free running animals. This all is surrounded by greenery, so you can relax after a busy day in the center of Amsterdam. All of this on the outskirts of Amsterdam, which is easily accessible by public transport.
Address : Provicialeweg 30 (1108 AB, AMSTERDAM)
Website : http://www.reijgershof.nl/
Photo and video gallery Reijgershof Amsterdam
Prinsenboot Hotel Amsterdam
Amsterdam is also known by some as the Venice of the North. This is because the center was built around the four main canals: Singel, Herengracht, Keizersgracht and Prinsengracht. Besides these, the city has a total of 165 canals spread over the city. Completing with a total of 1281 bridges crossing this huge amount of canals. And on one of these 165 canals you can find this weird hotel, called: the Prinsenboot.
The Prinsenboot is a inland vessel that is converted into a small hotel, and situated on the relatively quiet Prinsengracht. A strange place for a hotel, since most hotels are located on the quay. And this is exactly why the Prinsenboot is on this list of the weirdest hotels in Amsterdam. Where else will you wake up with a canal cruise or pedal boat passing the bedroom window…?
Getting a bit curious if one of three suites on the Prinsenboot, will be something for you? The boat is well located at a very strategic location in the city center. On top of this, the suites are fully equipped with all your basic needs.
Address : Prinsengracht 967 (1017 KL, AMSTERDAM)
Website : –
Photo and video gallery Prinsenboot hotel Amsterdam
Gallery Weirdest Hotels in Amsterdam
Now you have our list: The Weirdest Hotels in Amsterdam. Time has come to see the visual evidence… 😉 So please enjoy yourself with the photos of those weirdest hotels and let us know what you think of them!
Gallery HotelnotHotel Amsterdam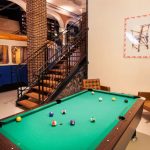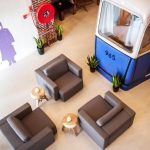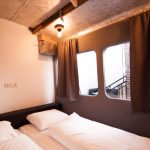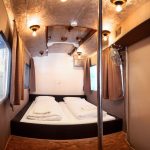 Gallery SWEETS Hotel Amsterdam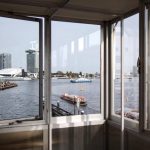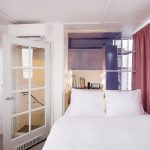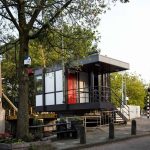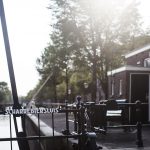 Gallery Reijgershof Amsterdam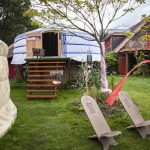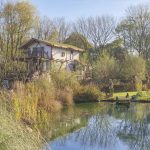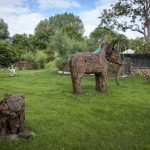 Gallery Prinsenboot Hotel Amsterdam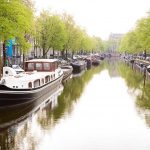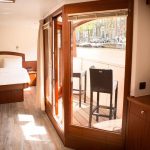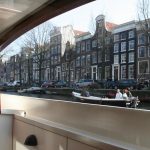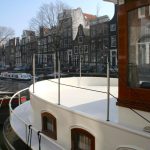 Still under construction, but to be edited is the following:
– Glass House: https://origineelovernachten.nl/bijzonder-overnachten-mandelahuisje-amsterdam/?row=106&item=3
– Train Lodge: https://origineelovernachten.nl/bijzonder-overnachten-trein-amsterdam/?row=103&item=3
– Circle Hotel: https://origineelovernachten.nl/slapen-luxe-4-sterren-designtoren-amsterdam/?row=1&item=4
– Wind boiler building: https://origineelovernachten.nl/overnachten-in-een-torentje-in-hartje-amsterdam/?row=24&item=3
– Botel: https://www.iamsterdam.com/nl/op-bezoek/overnachten-in-amsterdam/locaties/hotels/amstel-botel
– Faralda NDSM Crane Hotel: https://www.iamsterdam.com/nl/op-bezoek/overnachten-in-amsterdam/locaties/hotels/crane-hotel-faralda-amsterdam = https://booki.ng/2EHrsuM
Surroundings
– Indoor camping at Alkmaar: https://origineelovernachten.nl/bijzonder-kamperen-op-een-indoor-camping/?row=54&item=1
– Aquabin in Aalsmeer: https://origineelovernachten.nl/slapen-op-water-aquacabin/?row=55&item=3
– Fortress in the Beemster: https://origineelovernachten.nl/luxueus-overnachten-een-fort/?row=101&item=1
– Retro camper at Bloemendaal aan Zee: https://origineelovernachten.nl/slapen-retro-trailer-bloemendaal-zee/?row=34&item=4
– Tree house in Flevoland: https://boomhutovernachtingen.nl/boomhut-suite/
– Peer at Scheveningen: https://origineelovernachten.nl/bijzonder-overnachten-op-pier-scheveningen/?row=28&item=4
– Hobbit house in Castricum: https://origineelovernachten.nl/sprookjesachtig-slapen-in-een-hobbitwoning/?row=95&item=1
– Castle Heemskerk: https://origineelovernachten.nl/bijzonder-overnachten-een-kasteel/?row=12&item=1
– Bridge guard post at IJmuiden: https://origineelovernachten.nl/overnachten-in-de-seinpoststelling-van-ijmuiden/?row=35&item=4
– Yard cellar in Utrecht: https://origineelovernachten.nl/bijzonder-overnachten-werfkelder-utrecht/?row=50&item=1
– Zaanse Houses in Zaandam: https://origineelovernachten.nl/overnachten-in-een-stapel-zaanse-huisjes/?row=73&item=1
– BDSM in The Hague: https://origineelovernachten.nl/bijzonder-overnachten-kinky-bed-and-breakfast/?row=68&item=1