Surroundings of Amsterdam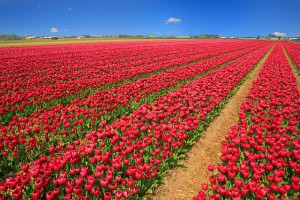 Have you already seen all highlights and visited all attractions of Amsterdam? Then you probably want more and guess what… There is much more to see in the surroundings of Amsterdam. The Netherlands is a small country, so the distances are short. You can easily travel by train to see a lot. For some areas, it is even possible to rent a bike and go by bike! The public transport is well organized in the Netherlands and therefore easy to travel yourself. If you don't like to figure it out yourself, then you can join some organized tours.
Within 30 minutes traveling distance
Beverwijk
Actually this is not such a special city to visit, but there is a popular attraction located here. In Beverwijk you can find the Beverwijkse Bazaar, which is also known as the Zwarte Markt (Black Market). This is a large scaled market of a few hectares, divided in 7 areas.
Broek in Waterland
Broek in Waterland is a small village north of Amsterdam. The village is famous for its wooden houses in nicely painted pastel colors. A boat trip through the small canals is a fun thing to do.
Edam
Edam is less than 30 minutes away from Amsterdam, so easy to do as a day trip. Edam is known for its world famous Edammer cheese, but there is more. It is an adorable small village, with well preserved historic houses. A popular attraction is their Wednesday morning market. From July to August farmers bring their cheeses by horse and by boat to the market, where they will weigh and trade the cheeses in traditional clothing.
Flower strip
The flower strip is a collective name for the tulip production fields. This lies between Haarlem and Leiden and is roughly 40 kilometers long. Each year between January and May you can see tulips in all colors, as far as you can see.
Roughly 20 kilometer to the left of Amsterdam you will find the old city Haarlem. Haarlem is officially established in 1245 and has a rich history. The city had a great influence on some famous old Dutch painters. Haarlem has idillic streets, which almost let you experience history again. There is a nice city center, with many shops and good bars and restaurants. This is really a entertaining city to spend a day at.
Keukenhof
Probably one of Hollands most visited tourist places. Located at the small city of Lisse there is the Keukenhof. This is an tulip exhibition in the open air. Here you can see tulips in all colors, in the most beautifully landscaped park.
Marken
Marken is a well preserved old piece of history on a peninsula. Almost all the buildings in this village are protected monuments. This gives you a good feel how they lived centuries ago. Although inhabitants don't wear much as traditional clothing, you can accidentally meet some who are wearing this.
Muiden
Located in the small village Muiden, near Amsterdam, you can visit Muiderslot. Muiderslot is an imposing castle and is part of the Defence Line of Amsterdam. This Defence Line of Amsterdam is included on the UNESCO World Heritage List.
Twiske
The Twiske is a recreation area a bit to the north of Amsterdam. At the Twiske it is possible to swim, do water sports and walk or bike through this green area.
Utrecht
In the surroundings of Amsterdam you'll find Utrecht, which is the fourth largest city in the Netherlands. The historic city centre and city canals and the many terraces, make it a trip worthwhile.
Volendam
This old fishermen's village lies about 20 minutes north of Amsterdam. Volendam is famous for its historic center with narrow streets and monumental former-fishermen's cottages. Here you can still bump into inhabitants dressed in traditional clothing. Popular things to do are: getting photographed in traditional costumes, a boat trip on the former Zuiderzee and enjoying a raw herring or a smoked eel.
Zaanse Schans
This popular attraction is like an open air museum. You can experience how the Dutch people lived in the 17th century. There are charming old wooden houses, windmills and you can see how they made wooden clogs.
Zandvoort
Although Amsterdam has some city beaches, people love to go to the beach at the sea. In the surroundings of Amsterdam, just 20 minutes away, you can the beaches of Zandvoort. Here locals and tourists get some refreshing on a hot summer day.
Within 1 hour traveling distance
Alkmaar
Alkmaar offers one of Hollands best kept tradition. Each Friday you can visit the cheese market, where they sell cheeses in old traditionally costumes. This is a tradition since 1593.
Beemster
The Beemster is a polder north of Amsterdam. Before local people used the ground for peat extraction, but nowadays it is used for agriculture. Many organic product come from this area. A famous product from this area is the Beemster cheese. A trip through this polder shows you a lot of grass for the cows and sheep, as well as old and cute villages. The area is also included on the UNESCO Worlds Heritage List.
Lelystad
On itself Lelystad is a dull city, but with a special story. It didn't exist before 1960, because before this period there was just a sea. From a touristic point of view, the city has a popular attraction to offer: Batavia Stad. This is an fashion outlet shopping center and is built as an imitation of a fortified town. Here you can find outlet stores of all big brands, such as: Calvin Klein, Polo Raplh Lauren, Nike, Levi's and many more.
Peat lakes
Close to Amsterdam you can find the Loosdrechtse Plassen and the Nieuwkoopse Plassen. These lakes are made by hand, due to peat mining. It is popular to rent a boat and spend and afternoon on the lakes.
Veluwe
The Veluwe is a stretched heathland of approximately 1000 sq.km. It has several National Parks included and you'll find serenity when leaving Amsterdam. Don't be surprised if you see some wild animals, such as: deers, owls and foxes.
Within 2 hours traveling distance
Afsluitdijk
Delft
Giethoorn
Kinderdijk
Leiden
Rotterdam
Scheveningen
The Hague